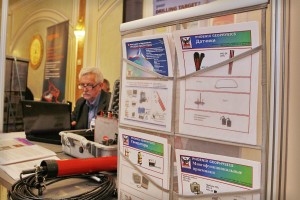 General Information (Exhibition booths)
Exhibitors will be allowed to set-up between 6 am and 8 am on 18 March
Exhibitors will be able to dismantle the booths after

6 pm on 19 March 2015

Exhibition will be held in the Conference Foyer and Sary Arka 2 Hall from 9 am on 18 March until 6 pm on 19 March 2015 at the Radisson Hotel, Astana (Sary – Arka Str, Astana, 010000, Republic of Kazakhstan).
Standard paneled booths will be constructed by the Fair Expo (official exhibition contractor).
Each booth depth is 1.5 m, therefore booths will be constructed from 2 different sizes of panels: 1 m wide by 2.5 m high and 0.5 m wide by 2.5 m high).
Floor space within the standard booth area will be covered with carpet.
Exhibitor can exhibit within the booth roll-up or pop-up banners (subject to booth dimensions).
Exhibition shells will be provided with square (0.7 by 0.7 m) table, 2 chairs, 2 spot lights, waste basket and 220v power extension lead.
Additional equipment can be hired by the exhibitor from Fair Expo or from an independent contractor.
Due to limited storage facilities at the Hotel, exhibitors and contractors are advised to bring their own bulky items such as flat screens, furniture, flowers, etc. no earlier than 17 March or arrange storage and safe keeping independently.
Organisers are not responsible for transportation, customs clearance, storage and safekeeping of the exhibitor's goods and valuables.
Prior to arranging shipping of the goods to Astana, local and international exhibitors are strongly recommended to seek advice on custom clearance fees and procedures from the recognised shipping and customs agents.
All foreign nationals are required to have business or tourist visas to enter Kazakhstan. Please read further.
Company Name on Booth Facial Board
Monochrome Company Name on the standard booth facial board will be produced by the Fair Expo in English only in dark blue color. If you would like a different color, company name in Russian in addition to English and/or your company logo it can be ordered from the Fair Expo at additional cost (please refer to their price list).
Exhibitors are responsible for their own booth's design, content and banners. Assistance with booth design and marketing materials printing can be provided at additional cost.
Information for the Forum Catalogue
The following information will be published by the Organiser on the Forum's website and in the printed catalogue:
Company name
Brief Company profile (up to 150 words in both – English and Russian).
Exhibitors who have booked exhibitor option 3 are entitled to a complimentary full page advert in the Forum's catalogue.
Other exhibitors can purchase advertising space in the Forum's catalogue with 50% discount.
Registered participants and visitors
Exhibitor will be provided with the delegate admission to the Forum's sessions, Master Classes, Coffee breaks, Lunches, Evening Drinks and Gala Dinner. Number of delegate tickets is determined in the Exhibitor terms.
Exhibitors who have booked

equipped

exhibition booth

can purchase additional delegate passes to the Master Classes or Forum with 30% discount.
Exhibitors who have booked Table Top can purchase additional delegate passes to the Master Classes or Forum with 30% discount.
Business podium presentation
Exhibitors who have booked presentation slot at a Business Podium session are entitled to 20 minute meeting room hire, screen, projector, sound system, Russian-English simultaneous translation and enclosure of the presentation in the forum's materials.
Delivery details (Radisson Astana Hotel)
Lyubov Dobriyeva, Senior Sales Manager, Radisson Hotel, Astana (please note that hotel is not responsible for transportation and customs clearance of the exhibitor's goods and valuables).
T: +7 7172 670 777, D: +7 7172 67 00 57
www.radissonblu.com/hotel-astana
Radisson Hotel, Astana Sary-Arka Street 4, 010000 Astana, Kazakhstan